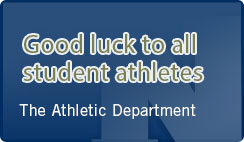 Boys Soccer
TO OUR PLAYERS & PARENTS:
It is an honor to announce that two of our players have been recognized for their excellent seasons at the Varsity level. Both Reed Campbell and Christian Amaral were All League selections. In addition, Christian Amaral has been selected to the All State team for the state of CT boys' soccer 2020 season. This did not happen by chance; rather through hard work and sacrifice. Their individual success is our success as a program and we offer you a big...

CONGRATULATIONS

*ALL STATE
Christian Amaral

*ALL LEAGUE
Reed Campbell
Christian Amaral
Program Reminders:
Thank you for a fantastic season! We saw our teams have some great success this year as we navigated practices and games through a pandemic. We appreciated your patience and support of our student athletes. Please stay safe and enjoy the rest of the year!

Uniform collection all levels: (Make sure you clean and wash your uniform before turning it back into NHS).
1. You can bag up the four pieces of your uniform and put your name on it and drop it off in the boys' locker room office or main office during the school day to coach Brunetti.
2. There are only 10 players left that have to turn in uniforms. Please do so immediately!
* Any uniform not handed in will go in as a delinquency submitted in the main office.
BOYS' SOCCER SCHEDULE
--------------------

To Join Remind (New Participants):
Text the Number: 81010
With the Message: @nhsbs20